The search for food processing equipment manufacturers can be time consuming and difficult if you don't have a standardized process to follow. Since product testing can't be done prior to purchase, decisions are typically made entirely on cost, a vendor's credibility and design data.
If you want to avoid unexpected costs or retrofits, it's important to take the time to provide vendors with a complete definition of your food processing equipment requirements.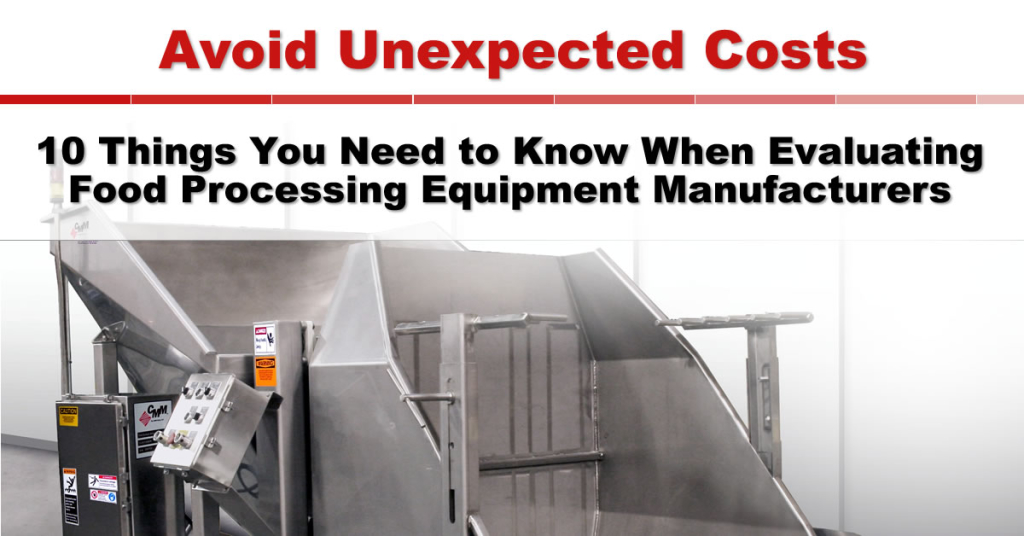 We've put together a check-list of criteria below to help you develop a list of detailed specifications you can use to submit a formal RFQ (request for quotation) to food processing equipment manufacturers. With these specifics in mind, you'll be able to select a manufacturer who can supply equipment that meets your needs and provides trouble-free service long into the future.
Clearly State Your Needs for Food Processing Equipment Manufacturers
What is your goal for the equipment? Are you satisfying a safety or regulatory requirement? Will the equipment improve product quality? How will it fit in with future needs and growth?
The more thorough and detailed you can be in identifying your needs and design criteria, the more likely your food processing equipment will seamlessly integrate into your business and satisfy all your needs.
Define Your Requirements
You can define your needs by putting together a type of document used in various industries and government, known as a specification. While this type of document is commonly thought to be unnecessarily wordy or confusing, this doesn't need to be the case. There is no recognized specification format for the food processing equipment industry, but a brief, clear, simply worded specification will effectively communicate your needs with manufacturers.
Use the following specs as a guide when evaluating your needs and putting together a formal request for quotation for food processing equipment manufacturers.
1. Equipment Description: Describe the overall operation and function of the equipment or system. What type of product will be processed? What container or packaging is used? What should the system interface look like and what type of performance criteria is required?
2. Materials: Specify the materials required in construction of the equipment.
3. Location: Where will the system be installed? Define the project conditions by including details on available utilities and the environment in which the equipment will operate.
4. Standards: List any standards that directly relate to the construction and components of the specified equipment. (i.e. USDA, OSHA, FDA or ASTM)
5. Controls: What is the minimum level of control (manual vs. automatic) desired for the equipment? Is there a specific operating sequence and control panel layout required?
6. Safety: Define the safety requirements for the equipment and product. This might include distinct environmental concerns or guards for the operator.
7. Service & Maintenance: Include a detailed description of any ongoing maintenance requirements for the equipment.
8. Preferred Manufacturers of Parts or Sub-assemblies: If your organization would like to minimize training requirements for maintenance techs and operators, you might request specific manufacturers for parts like motors, valves, pumps, controls or drives.
9. Inspection & Testing: Specify when you would like to inspect the equipment. Include the timing of an acceptance test and the consequence of failed tests.
10. Delivery & Installation: If timeliness is a factor, specify this along with the actual date of delivery and deadline you prefer. Also, include the type of packaging and protection you require for the equipment along with the delivery address. Get specifics from the manufacturer on whether installation is available along with any costs associated with the installation.
While this list will help you think through your requirements for the equipment, you may have others needs such as:
Equipment identification/labels to be permanently attached to the equipment
Additional needs or equipment required such as spare parts kits or replacements, warranties, foundation requirements, etc.
Business information pertaining to the manufacturer such as credit rating, years in business, references, etc.
Once you've put together your specification, you can identify and build a list of experienced food processing equipment manufacturers and send your RFQ to each one. Remember, the lowest bid may not necessarily be the lowest price or account for all your immediate and future needs.
Watch out for hidden costs and thoroughly check references for each food processing equipment manufacturer on your list.
The CMM Group: A Custom Designed Industrial Food Processing Equipment Manufacturer
Through our extensive field knowledge and experience with engineering and product development skills, we can provide custom production equipment to meet a variety of needs:
Food Grade Conveyor Systems and Machinery
Pizza Crust Ovens
Pizza Cheese Pre-Melters
Ingredient Tote Dumpers
Whether your production machinery system requirements call for a single piece of equipment or an entire production line, we can fully integrate our custom designs with high-quality Original Equipment Manufacturer (OEM) components. We provide Single Source Solutions to a wide range of customer needs including:
Reduced Costs
Increased Production
Greater Operating Efficiency
Maximum Return on Investment
Reliable Performance
Low Maintenance
Improved Product Quality
Custom Designed Industrial Ovens and Dryers
Additionally, The CMM Group can provide custom designed industrial ovens and dryers, available in various models with a wide range of proven air-supply nozzle configurations to meet your individual requirements. All designs are available in single or multi-zones with a variety of product support and/or carrier options depending upon the specific application.
Request a Quote for Custom Designed Food Processing  Equipment Machinery
Call (920) 336-9800 to let us know how The CMM Group can assist you.
New Guide from The CMM Group: Steps to Selecting an Industrial Oven
Whether you've done it before or this is your first purchase of major machinery at your facility, having a plan in place and understanding the processes can help you find an oven or dryer that can benefit your company for years or decades to come with minimal downtime.
At The CMM Group, we're here to help and are proud to announce a new guide on the oven and dryer selection and implementation process, detailing every step from recognizing your needs to the consultation process to installing and operating your new industrial oven or dryer.
We invite you to download the entire Five Steps to Selecting an Industrial Oven or Dryer for Your Manufacturing Facility guide here or preview it via SlideShare below: