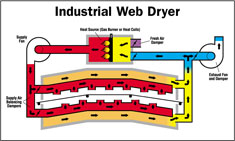 Custom Designed Industrial Ovens & Industrial Dryers
Custom designed Ovens and Dryers from The CMM Group are available in various models with a wide range of proven air-supply nozzle configurations to meet individual requirements. All designs are available in single or multi-zones with a variety of product support and/or carrier options depending upon the specific application.
Conveyorized Curing & Baking Ovens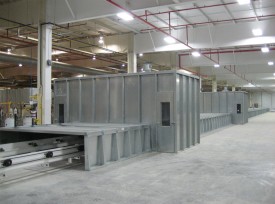 Custom designed conveyorized or continuous ovens from The CMM Group can be used in a wide range of industries that involve the automated production of small to medium-size product in mass quantities. The CMM Groups Conveyorized Curing & Baking Ovens incorporate the appropriate conveyor type for the application and include PLC controls for airflow management, temperature and speed controls, ductwork, etc…
Flotation & Roll Support Web Dryers
From thin to thick substrates…slow or fast speeds…narrow or wide webs…high or low temperatures…Flotation and Roll Support Web Dryers from The CMM Group provide stable airflow and precise temperature controls, resulting in both improved energy and cost efficiency. Our product knowledge and experience extends over a wide range of industries including flexible packaging, converting, web coating, fabric coating, textile manufacturing, etc…
Vertical Tower Dryers
The CMM Groups Vertical Tower Dryers are custom designed to provide efficient drying capabilities while taking up minimal floor space.
Contact The CMM Group Today
Whatever your specific curing, baking or drying application might be, you can rely on The CMM Group to provide stable airflow management and precise temperature control with PLC driven menus. Backed by an experienced staff with many years of oven and dryer experience, The CMM Group will recommend the appropriate drying technology, nozzle configuration and size to meet individual application requirements.
View addition videos of Custom Ovens and Dryers by The CMM Group