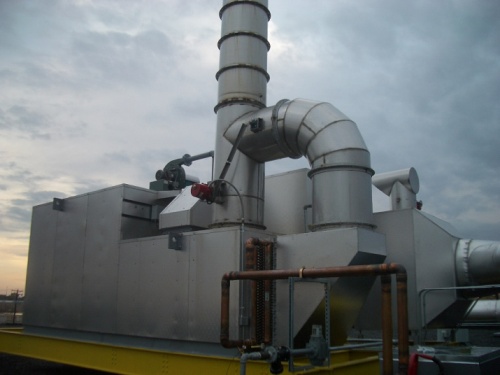 With the installation of three ovens that operate 110-140 hours per 5-day week, a major Midwest baking operation producing white pan bread needed to install air pollution controls. Because of their responsiveness and ability to meet the customer's time constraints, The CMM Group was selected for a turnkey installation of a Recuperative Catalytic Oxidizer to destroy the 20-50 pounds of ethanol emissions produced per hour in the bread and roll baking oven exhaust.
Outfitted with monolith block, platinum group precious metal catalyst, the CMM Recuperative Catalytic Oxidizer is designed to operate transparent to the production facility. Exhaust emissions from the baking process are automatically collected in a common ductwork header and directed to the 12,000 scfm oxidizer.
In addition to the primary air-to-air heat exchanger, an air-to-glycol coil energy recovery system was designed for the unit to provide additional energy savings. The system can heat up to 50 gallons of glycol per minute, raising its temperature from 50°F to 200°F to supply the heat energy for three tray washers and two air make-up units. Lower exhaust flows are prioritized based on current load conditions (summer/winter) and the need to run the tray washers.
Request a Quote