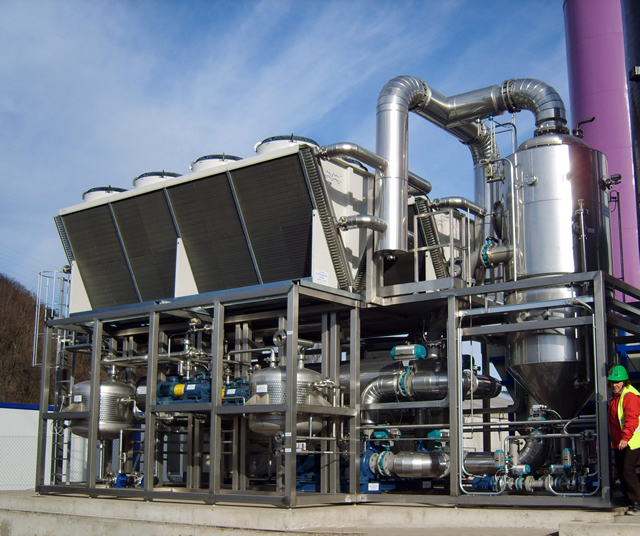 The CMM Group, in partnership with Condorchem Envitech, S.L., offers custom designed, high efficiency vacuum water evaporators.
Through its solid engineering and constant innovations. Condorchem designs have proven to be a durable and efficient solution for the treatment and reuse of wastewater in all types of industrial activities.
Wastewater evaporators are considered the best technology to achieve a zero discharge system, where wastewater is transformed into two streams, one containing solid waste with reusable resources (mainly raw materials and by-products) and another with high quality water that can be reused.
CMM and Condorchem can deliver a zero discharge system that will allow your company to achieve the following objectives:
Reuse 98% of the water
Recover valuable raw materials and by-products dissolved in the water
Minimize the final sludge to manage
We not only supply evaporators, we can also offer a complete and customized engineering solution, designing and installing a complete wastewater treatment and resource recovery plant.
Condorchem Envitech's range of vacuum evaporators covers the three main types of this equipment, which are robust and simple to operate, take up little space and are clean and safe technology. Additionally, all equipment is highly automated, requiring minimal supervision.
For a look at the complete range of our vacuum evaporators, please visit www.condorchem.com
Vacuum Evaporator Working Principle
Vacuum evaporation is a simple process with high energy efficiency; that is, low consumption and virtually no maintenance. Normally for the treatment of large volumes of wastewater, evaporation is preceded by other concentration technologies such as reverse osmosis.
The basic operation is based on bringing the effluent to its boiling point, which, when working under vacuum conditions, is around 40ºC. When the effluent begins to boil in the evaporator boiler tank, the vapor formed condenses and is removed from the system while more effluent enters the boiler tank. The effluent that is fed must be previously heated so that the evaporation process continues. The technology with which the effluent is heated before being fed to the tank is what establishes the main differences between the different types of vacuum evaporators.
The treated water (distilled) that has been extracted from the liquid waste has a high quality that allows it to be recycled in the plant for various applications (production, refrigeration, etc.), reducing the consumption of drinking water.
Types of Vacuum Evaporators
Different types of vacuum evaporators are used, depending on the effluent heating system.
• heat pump
• mechanical vapor compression
• multiple effect
Detailed information describing types of Condorchem vacuum evaporators, along with a description and videos showing their operation can be found at www.condorchem.com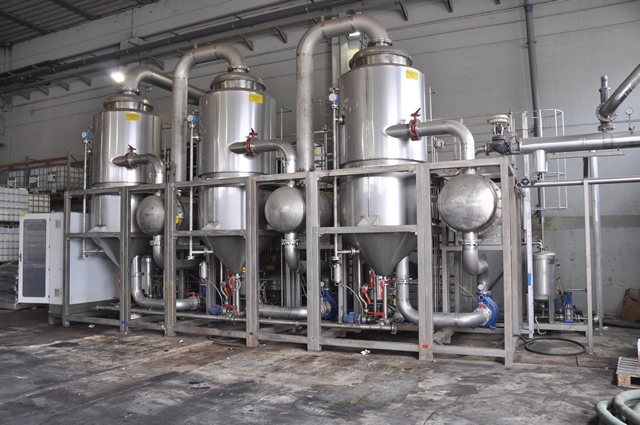 Vacuum Evaporator Typical Applications
Oily emulsions, lubricating cooling fluids, release agents
Compressor purges, floor washing water
Washing water from tanks and reactors (chemical, pharmaceutical, cosmetic, perfume industry).
Work baths and washing water in galvanic processes and surface treatments
penetrating liquids
Graphic arts waste (cleaning water, ink, etc.)
Rejections from water treatment plants (reverse osmosis, demineralizers, etc.)
Leachate from municipal solid waste landfills
Digestate in biogas generation plants
Food and beverage industry
brines
Energy generation
Paper, mineral and extractive industry
Vacuum Evaporator Advantages
Minimization of the volume of waste to be managed
Significant reduction in waste management costs
Promotion of the reuse of a very important part of the liquid effluents
Possibility of implementing a zero discharge system
Compliance with current regulations on effluent discharge
Reduced need to store large volumes of waste
Reduction of greenhouse gas emissions generated in the transport of waste
Reduction of the consumption of mains water by reusing that produced in the treatment
Absence of reagents (except antifoam in some cases)