Custom Designed Industrial Curing and High Temperature Ovens & Dryers
Industrial ovens are among the most common pieces of process equipment found in manufacturing facilities. Also referred to as dryers, these versatile and integral process machines can be used for a wide range of applications in many industries.
Custom designed conveyor and batch ovens and dryers from The CMM Group are available in various styles with a wide range of proven air-supply nozzle configurations to meet specific customer requirements. All industrial designs are available in single or multi-zones with a variety of product support and/or carrier/conveying options depending upon the specific application.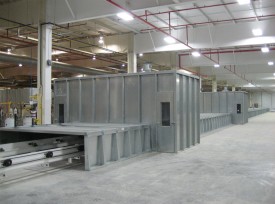 Our conveyorized or continuous industrial drying ovens can be used in a wide range of industries and applications that involve the automated production of small to medium-size product in mass quantities. and will incorporate the appropriate conveyor type for the application and include PLC controls for airflow management, temperature and speed controls, ductwork, etc.
Roll Support Dryers
From thin to thick substrates, narrow or wide webs requiring slow or fast speeds and high or low processing temperatures, roll support dryers from The CMM Group provide stable air flow and precise temperature controls, resulting in both improved energy and cost efficiency. Our product knowledge and experience extend over a wide range of industries and provide the right solution for all your industrial oven design needs.
Vertical Tower Dryers
The CMM Group's vertical tower dryers are custom designed to provide efficient drying capabilities while taking up minimal floor space.
Vertical tower dryers, which can include a series of stacked dryers, are a great solution as they make optimal use of space while still adding an industrial drying oven to your operation. This can help reduce your overall costs while improving quality and turnaround time simultaneously.
Read more about considerations for finding the right customized design for your application:
Typical Applications for Ovens and Dryers
Glass Annealing
Evaporation
Incubation
Sterilization
Baking
Curing
Brazing
Calcining
Composite Curing
Depyrogenation
Heat Treating
Sintering
Pre-Heating
Typical Industries Using Conveyor or Batch Ovens and Dryers
Flexible Packaging
Converting
Web Coating
Fabric Coating/Textile Manufacturing
Aerospace components
Automotive Parts
Coil Coating
Non-Wovens (filtration)
Membranes
Composite Parts
Rubberized Materials,
Hoses, Gaskets
Features and Benefits of a CMM-Designed Oven or Dryer
Custom-designed to customer needs
Proven air supply nozzle configurations
Reliable PLC controls for airflow management
Precise temperature controls for energy efficiency
Contact The CMM Group Today
Whatever your specific curing, baking or drying application might be, you can rely on The CMM Group to provide stable airflow management and precise temperature control with PLC driven menus. Backed by an experienced staff and many years of oven and dryer manufacturing experience, The CMM Group will recommend the appropriate drying technology, nozzle configuration and size to meet individual application requirements.