Insulation Repair in your RTO can help avoid catastrophic failure!
Have you noticed missing or discolored paint on your Regenerative Thermal Oxidizer (RTO) shell? Don't ignore this warning sign!
A hot spot is the result of heated air inside the combustion chamber or media tower reaching the shell of the Regenerative Thermal Oxidizer (RTO). This has several causes. As oxidizers age, the ceramic fiber insulation exhibits shrinkage. This creates gaps between the modules and can create hot spots. The movement of the shell can also weaken the fastening points and cause batten strips or entire modules to fall. In addition, the area around the RTO burners and doors are susceptible to insulation failure due to the duty cycles of these locations. These points typically see higher external temperatures due to the presence of through-metal needed to maintain structural integrity around the openings, which is exaggerated by an insulation failure. Second, perimeter insulation at the access door can be damaged by continual use of the door opening. Regardless of the cause, a hot spot can weaken the metal and even burn a hole through the shell, resulting in catastrophic failure and an unsafe condition for both the machine and for your personnel.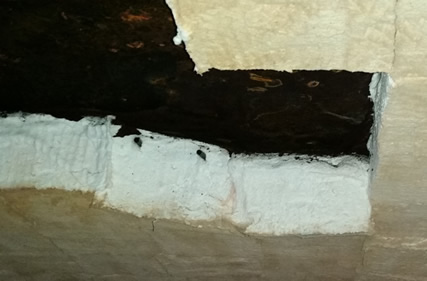 Your CMM Group Inspection and Repair can incorporate:
External and/or internal inspection
Thermal imaging with summary report
Repair of hot spot(s) with new materials
Removal of existing insulation and replacement with new material
Paint/repair of external surface
Restart of RTO
A full external inspection using thermal imaging can help to properly identify problem areas in the insulation modules (without even
shutting the machine off), including deterioration and gaps, while an internal inspection can reveal additional problem areas
Benefits of repairing hot spots:
Eliminate unplanned downtime caused by failures
Increase safety near the RTO
Reduce radiant heat losses
Assess damage to shell behind insulation caused by process constituents
The CMM Group offers fast response for insulation repairs or replacement. Regardless of your process, whether the problem calls for a repair of a single spot or full insulation repair, we have the knowledge to repair any oxidizer type. Our multi-disciplined technicians can also perform an inspection of your RTO including the insulation, valve and burner systems.
Contact us today to schedule an inspection and repair!