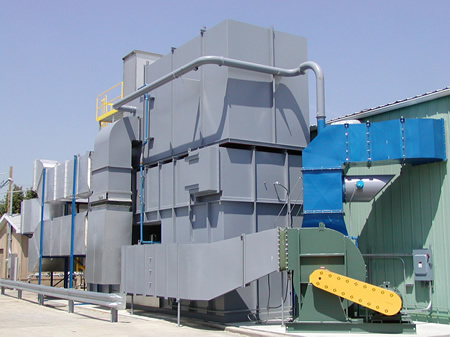 To control the exhaust emissions from up to three coating line dryers, a leading manufacturer of print marking ribbons installed a Regenerative Thermal Oxidizer equipped with a secondary heat recovery system from The CMM Group.
The CMM RTO replaced an aging thermal recuperative oxidizer that presented both maintenance and operating cost problems because of its natural gas usage. The 22,500 scfm RTO from CMM is designed to destroy 99%+ of the hexane, isopropyl alcohol and toluene VOCs generated by the company's three coating line dryers. The unit is designed to be self-sustaining with an inlet VOC concentration of approximately 9% LFL. The maximum inlet VOC loading is not expected to exceed 815 pounds per hour.
For additional energy savings, the secondary heat recovery system is designed to direct the heat recovered from the oxidizer back into the company's curing oven and reduce natural gas usage.
Request a Quote