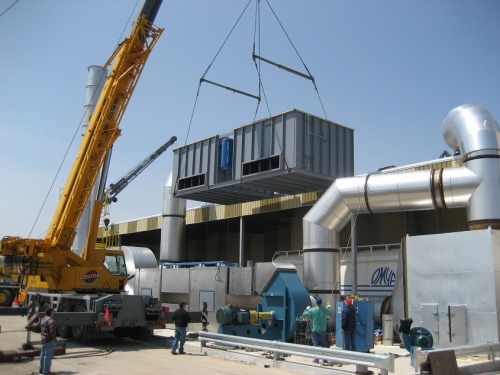 When a major manufacturer of fiberglass reinforced composite panels needed to install emission controls to handle the styrene produced in the company's manufacturing process, they selected The CMM Group.
To treat the emissions generated by the company's three wide web production lines that operate 24 hours per day, 7 days per week, CMM installed a 40,000 scfm Regenerative Thermal Oxidizer designed to provide a 98%+ VOC destruction efficiency at an operating set point temperature of 1,500° F. In addition, CMM also designed and installed three production line wet-end enclosures featuring a collection hood fitted with low-cost disposable filter pads within each enclosure. CMM also installed filter boxes above each production line to capture large particulates and provide high efficiency final filtration.
To provide important energy savings, CMM installed an energy recovery system designed to utilize the RTO exhaust heat to preheat and supply air to the general production area by using the six make-up air units already in place. The energy recovery system is designed to transfer over 6,000 BTU's per hour by taking the 70,000 scfm exhaust from the RTO and routing it through a heat exchanger to heat the fresh- filtered air to a set-point temperature during the colder heating months. The hot-side of the heat exchanger is bypassed during non-heating months so that the make-up air units can be turned off or operated at ambient temperature.
Request a Quote