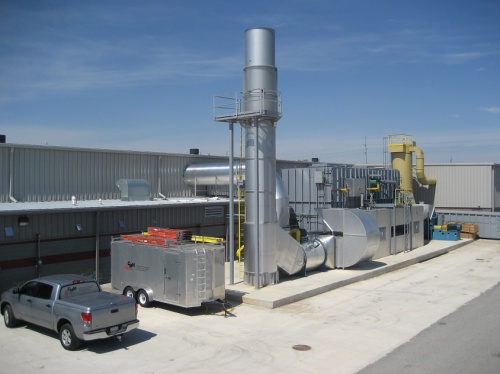 To control an increased amount of styrene emissions generated from the addition of a second production line, a leading manufacturer of reinforced plastic composite "fiberglass" recreational vehicle sidewalls installed a 45,000 scfm Regenerative Thermal Oxidizer from The CMM Group.
The expansion project is intended to duplicate the existing production lines VOC capture system which includes two gel-coat enclosures, a cure tunnel and resin application booth. Designed to destroy 98% of the nearly 200 pounds of VOCs generated per hour during the company's 24 hour per day, 7 days per week production schedule, the CMM RTO was installed to reduce the overall concentration of styrene to less than 50 ppm in the manned resin application booth with a design goal of less than 25 ppm.
CMM also installed a secondary heat recovery and make-up air system custom designed to utilize the RTO exhaust heat to preheat and supply make-up air to the resin booth as well as within the general production area.
Request a Quote