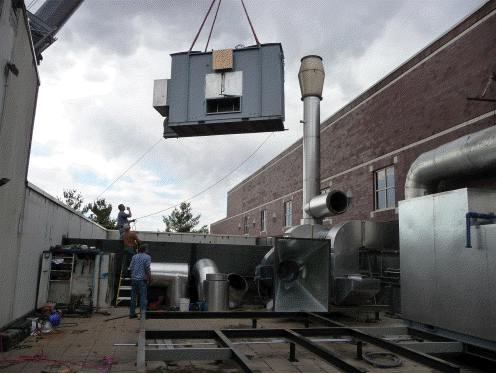 When a Nebraska heat-set offset magazine printer needed to replace an aging Regenerative Thermal Oxidizer that was creating expensive problems with both maintenance and high energy consumption, they turned to The CMM Group for a turnkey installation of a 4,000 scfm RTO equipped with a secondary energy recovery system.
In order to avoid disrupting production, CMM installed the unit over a single weekend. After production was halted on a Friday afternoon, CMM disassembled part of the building's roof, removed the existing RTO unit, installed the new, energy-efficient CMM oxidizer, closed up the roof and had the new unit up and running in time for production to resume Monday morning.
Equipped with a VOC switch chamber and four pneumatic poppet-style airflow switching valves, the CMM RTO provides up to 99% VOC destruction efficiency. In addition, an air-to-air secondary heat exchanger designed to bring fresh treated air back into the building for heating purposes provides a thermal efficiency of 95%.
Request a Quote