Today's manufacturers are under increasing pressure to meet strict environmental regulations, and an effective emission control system is vital to the ongoing operation of a plant.
The Regenerative Thermal Oxidizer (RTO) is one of the most popular and cost-effective ways for emissions control. Here's how to properly maintain this piece of critical equipment:
The Importance of RTO Maintenance
Due to the high operating temperature and exposure to corrosive chemicals, minor issues in an RTO can fester into major problems that could bring the entire manufacturing plant to a halt if they aren't discovered and dealt with in a timely manner.
Here are the benefits of having a consistent maintenance plan for your RTO:
Ensure that all the components are functioning optimally to increase the cost-efficiency of the air pollution control system.
Prevent the accumulation of foreign particles that could impact the network of valves and moving parts which are responsible for directing airflow through the RTO.
Prevent unplanned downtime that could hold up the entire plant's operation and lead to lost production time.
Avoid costly repairs (or even the need to replace the RTO) as a result of negligence and poor maintenance.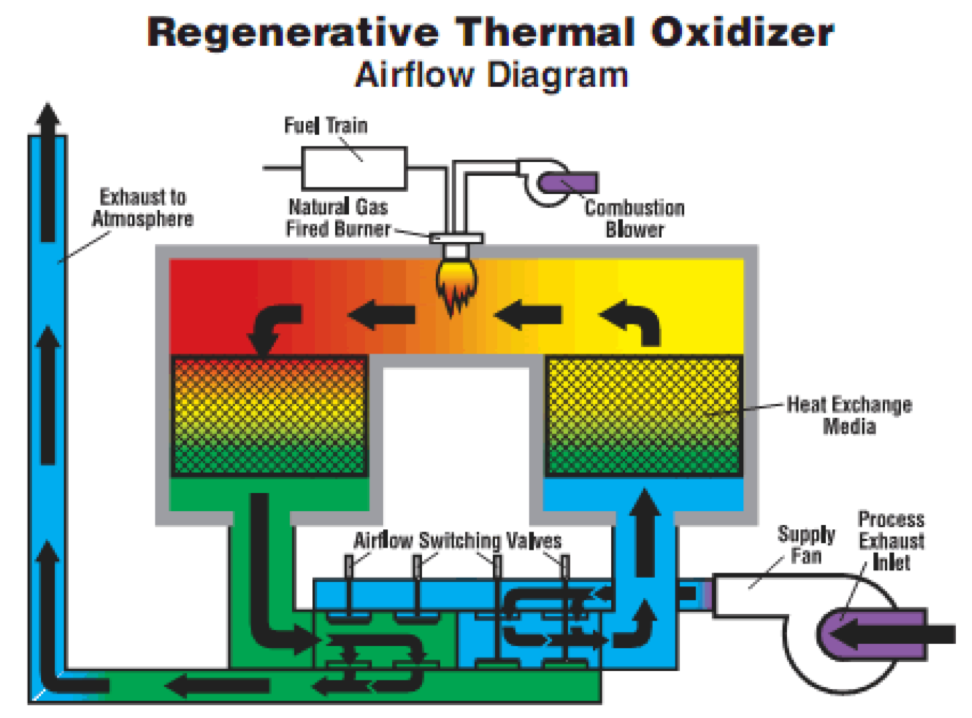 Common Issues and Points of Failure
The maintenance plan for your RTO should cover the most common points of failure, including:
Media failure: If the burner is out of adjustment, the flame can come into contact with the media and cause damage. In addition, silicon compounds can turn into silicon dioxide in the combustion chamber and cause plugging.
Insulation failure: Areas around the burner are common points of insulation failure. In extreme cases, heat can burn a hole through the shell and cause a catastrophic failure.
Cold face support failure: The cold face support system needs to hold up thousands of pounds of delicate ceramic media while tolerating high temperatures and various chemicals emitted in the process.
Switching valve failure: Switching valves are the primary components that contribute to an RTO's destruction rate efficiency. Such a failure can impact the destruction rate and affect compliance with environmental regulations.
How to Maintain an RTO
Here are some key activities to cover in an RTO maintenance plan:
Look for gaps between the structured blocks and the insulation, which can allow the extreme heat to reach the cold face support and cause excessive heat damage.
Collect data across the emissions control process and use predictive analysis to measure media bed pressure drops and temperature profiles to identify areas that require attention.
Inspect the cold face support for signs of structural deterioration, condensation buildup, and media plugging.
Conduct weekly inspections of the RTO's exterior. Heat marks, warped steel, damaged fasteners, and discolorations could be signs of insulation failure.
Look for warped or torn metals and plugging in the cold face support, which could be signs of severe cold support failures.
Conduct regular visual inspections of switching valves for excessive wear and tear or alignment issues.
Final Thoughts
Besides a comprehensive maintenance plan, work with a reputable vendor that can ensure proper installation and ongoing monitoring of your RTO to optimize the cost efficiency of this crucial piece of emissions control equipment in your manufacturing plant.